Pool Table Installations in Eugene
Are you looking for a professional pool table installations service provider? Look no further, we can help! We have the proper tools and experience servicing pool tables to ensure an expert pool table installation that guarantees an optimum playing experience.
We can help you with your pool table if you need it professionally installed, leveled, and the cloth installed on it. Our professionals are also shuffleboard installers.
We can help you with your pool table if you need it professionally installed, leveled, and the cloth installed on it. Pool table installation is technical in nature and should be done by a team of trained pool table installers.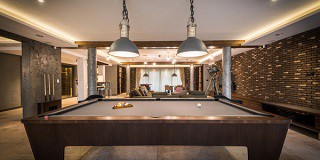 Since we carry out pool table moves from start to finish we naturally have experience in the pool table installation side of the business. Looking for a pool table? Check our classifieds for local pool tables for sale.
Our pool table setup is warranted to hold its level for a whole year!
On a side note, many people don't know that the best time to replace the existing cloth during your pool table setup so if you are considering moving or buying a pool table, check your options for new cloth when if you're interested in taking care of your pool table refelting during assembly.
We are the only company in the area that backs up our workmanship with an exclusive guarantee issued in writing and backed by a National organization. This guarantee covers our services and materials, whether it is a complete pool table move, pool table setup, a pool table refelting and/or a pool table repair, rest assured you are protected by the said guarantee.
As Members of the ABIA, we are the only company in the area to offer you an exclusive 1-year service guarantee IN WRITING and issued by the American Billiard Installers Association. Are you looking to sell a pool table? post on our classifieds to sell a pool table for free!
Find out why most customers choose to refelt during the pool table setup
Most customers that purchased a used table decide to have their pool table recovering process at the time of the pool table assembly.
This is because the residential grade pool table felt usually lasts 3 years with heavy use and even if it has little to no use but has been on the table for about 10 years, it's best to have it replaced during the setup to avoid any tears or rips during installation.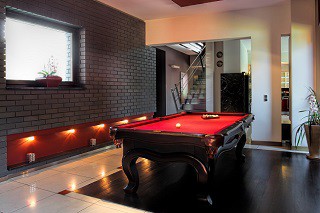 Also, the service is less labor-intensive if the pool table is in pieces, as opposed to coming back later down the road and refelting the table once it is already set up.
During extensive leveling our technician's pool table movers precisely set, shim, wedge, and level the slates using sensitive leveling equipment to make sure your pool table installation is done to the highest quality for optimum performance.
Pricing for your pool table assembly
There are a few particulars we need to know in order to provide an accurate quote and availability. If you have an exotic or antique pool table we may need a picture to help us identify it. If you haven't found the right pool table we also have a chart with the approximate pool table room sizes to help you get the right pool table size.
If you need us to bring the pool table upstairs, there may be an additional cost. 1 pc. slates we cannot guarantee we will move but check for possibilities depending on the situation.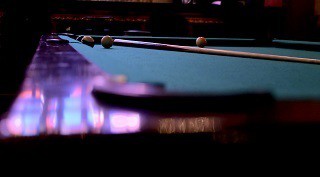 We will also pick up the pool table from a storage facility or your on-site storage before we do the actual pool table installation for you. Just let us know the details of your job and if you will need a pool table repair service done for you too.
Particulars needed to provide accurate pool table assembly pricing
The pricing on the installation of your pool table will depend upon a few circumstances. If the table is in the room already, will there be stairs, what the table size is and if the new cloth is needed for recovering the table during installation?
It helps to get the following information before contacting us, this will give you a head start on your job:
Size of pool table we will be installing
Is the pool table in the room or will we take it up or downstairs?
Is your cloth in good condition or would you like to change it?
Is this pool table a 3 piece or 1 piece slate?
Does the table have a drop pocket build or a ball return system?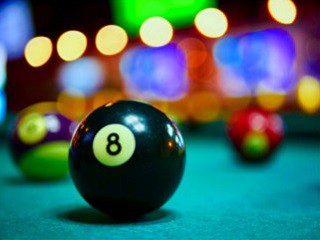 We can add Championship woolen felt or upgraded tournament grade worsted cloth for additional charges but you save if we recover the pool table at the time of installation.
The ABIA guarantees all of our pool table installations for leveling and quality on all applicable pool tables for an entire year after service.